---
August 27, 2016, Saturday, Middlefield CT,
"Air Cooled at The Orchard", ALL CORVAIR AND AIR COOLED VOLKSWAGEN CAR SHOW
At Beautiful Lyman Orchards 32 Reeds Gap Road, At the junction of routes 157 and 147
Show Times: 9 to 3,
Open to all Corvair powered vehicles and air cooled Volkswagens
Car registration: $10 entry.
Check out Lyman's at www.lymanorchards.com
The Rain Date Will Be The Next Day, Sunday August 28th
For Corvair Info email CT Corsa at ctcorsa2@gmail.com Or call Bob Krystofolski at 860-589-0204 or Jim Forgey at 203-407-1441 For Volkswagen Info, contact Bill Arute (860) 395-9964 bill@ctvwa.org or Chris Fox chris@ctvwa.org
---
August 28, 2016, Sunday, Oxford,CT
Barefoot Summer Fest and Classic Car Show, Colonial Tavern, 24 Hawley Rd, 11am-4pm. Features burn out pit, door prizes & awards, vendors, beer garden, food trucks, live music and kids' activities. Admission is $5/person, kids under 4 are free. Car show registration is $10 before July 1 and $15 after July 1. Visit show site at: www.barefootsummerfestival.com
The event benefits the CT Partnership for Children, a 501C3 organization.
---
August 28, 2016, Sunday, Prospect, CT
31st Annual Town Green Vintage Car Show Event
Noon to 6 PM
Arrive very early for best car show parking spots
---
August 28, 2016, Sunday, Shelton, CT
Fourth Annual Bruce Hartel Memorial Antique Car Show
Huntington Congregational Church, UCC
12 noon - 4 PM
Admission free to car owners and spectators
Donations accepted to benefit the American Cancer Society and the Bruce Hartel Memorial Organ Fund
Peoples's Choice Awards - Voting closes at 3 PM
Food and drink will be available for purchase
For more information please contact Robin Hartel at 203-929-7689 or carshow@huntingtonucc.org
---
September 1, 2016, Thursday, Westport, CT
Please note the new date, Sept 1
CT Seaport Car Club
Monthly Meeting
7:30 PM, Last Tuesday of the Month
At VFW Post 399
465 Riverside Avenue
Westport, CT
For Members and People Who Want Join Our Club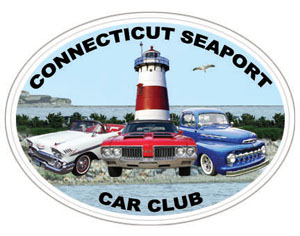 ---
September 4, 2016, Sunday, Great Barrington, CT
Olde Yankee Street Rods Presents...
Labor Day Car Show
---
September 6, 2016, Tuesday, Norwalk, CT
The Coachmen Rod & Custom Car Club
The Norwalk Parks & Recreation Commission
Presents
Summer Beach Cruise Nights
at Calf Pasture Beach, Beach Road Norwalk, CT
6-9 PM
New on Tuesday Evenings for 2016
Rain Date is Following Thursday
2016 Dates: 6/14, 7/12, 8/16 & 9/6
---
September 8 , 2016, Thursday, Bridgeport, CT
The Port 5 Naval Veterans in association with
The Connecticut Seaport Car Club
Presents Summer Cruise Nights on the Harbor
4 Nights This Season!
June 7, July 19, August 9 & September 8
6-9 P.M.
At Port 5 Naval Veterans Hall
69 Brewster Street, Bridgeport, CT
3 Trophies, Prizes Awesome Food
Featuring DJs: Car Tune Classics
Playing tunes and trivia with The Feel the Steel Contest!
45 Car Limit - No Cut off Year!
Gates close when Parking Lot is Full
Info: Rich 203-610-3330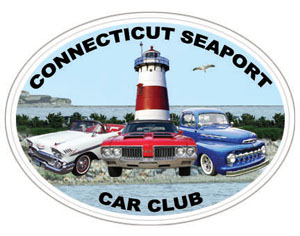 ---
September 10, 2016, Saturday, Wilton, CT
Wilton Center - Tom Fleming Memorial Car Gathering
Every summer for the past 16 years, the Kiwanis Club has held a low-keyed car show/cruise-in in the center of Wilton, in the Piersall Building parking lot. It's right in the middle of Wilton Center. This year the event will be on Saturday, September 10th. It'll start at 5PM and usually lasts a few hours. The Club will be selling hot dogs, hamburgers, and sodas and I hope to have an ice cream truck on site. This is a really low-key and fun event.


---
September 10, 2016, Saturday, Rocky Hill, CT
21st Annual Veterans Home Car Show
Noon - 3 PM
---
September 11, 2016, Sunday, Newtown, CT
NEWTOWN FAIRFIELD HILLS CAMPUS
SEPTEMBER 11, 2016 8 AM -TILL 3PM
........SAVE THE DATE ..................
NEWTOWN REACH CAR SHOW
BACK THIS YEAR OUR 2nd ANNUAL
THIS WAS ONE OF THE AREA'S
BEST CAR SHOWS LAST YEAR
MR CAR SHOW 2 DJs SETH AND DOM
LIVE MUSIC , GREAT FOOD TRIVIA ,PRIZES
BIGGER AND EVEN BETTER THIS YEAR
BE ONE OF THE FIRST 125 CARS
AND GET THE NEW GREATEST CAR CRUISE CD VOL #2
STILL ASKING FOR VOL #1
0VER 50 BIG BEAUTIFUL TROPHIES (see video)
REACH NEWTOWN
CONNECTING KIDS AND BUILDING
RELATIONSHIPS THAT CHANGE LIVES
FAIRFIELD HILLS COMPLEX
NEWTOWN CT EVERYONES WELCOME
NO CUT OFF YEARS ALL HOT RODS , CLASSICS ,MUSCLECARS, TRUCKS AND SPECIAL INTREST CARS WELCOME $10.00 ENTRANCE FEE
SPECTATORS BY DONATION
WE WILL HAVE HONOR OUR VETS CEREMONY ONCE AGAIN, AND GIVE SPECIAL 911 RECOGNITION TO OUR POLICE,FIRE AND EMS.PERSONEL
WITH SUPPORT FROM CT SEAPORT CAR CLUB
THE PORT 5 NAVAL VETRANS AND ROUND TOWN CRUISERS.
NEED INFO NOW ?? EMAIL ,SETHDOUG@AOL.COM OR
reachnewtown.org/ OR CALL CHAIRMAN SETH CARLEY 203-268-2303
WOW...... WATCH THIS VIDEO OF LAST YEARS REACH CAR SHOW
AND COME JOIN US THIS YEAR....
Click the link below to view our video from last year's show!
https://youtu.be/FWFK1sQdTTU

Click the link below to learn more about REACH Newtown
www.reachnewtown.org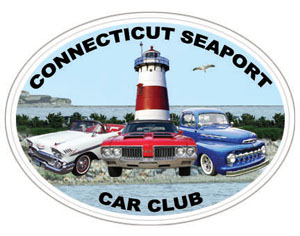 ---
September 11, 2016, Sunday, East Haven, CT
The East Haven Fall Festival 22nd Annual Car Show
9AM-3PM at the East Haven Town Green, Main St. East Haven
Sponsored by the Vietnam Veterans Chapter 484 Fireworks Committee
Music/Raffle/Food Booths and lots of Trophies
Directions from I-95 North use exit 51, at second light turn right, at next light your there.
From I-95 South use exit 52, turn left off ramp, at forth light turn left, follow two blocks to Green.
In Show Cars $10.00 Entry Fee
For info: Dom 203-494-3702 Butch 203-710-5101
For day of show weather updated visit East Haven Fall Festival on Face Book
---
September 11, 2016, Sunday, Deep River, CT
Deep River Fire Department 3rd Annual Antique Automobile Extravaganza
9:00 to 2:00 at Devitts Field
1 Southworth St, Deep River Connecticut 06417
If it has wheels, it is welcome!
Trophies for People's Choice Categories:
Vehicles (Pre 1900's to 2016), Motorcycles, Tractors, Mega Trucks, Fire Trucks
$10 car entry, $5 Walk In, and kids under 12 are free
All Proceeds go to the Deep River Fire Department
Flea Market - Vendors call 860-526-6042 to reserve a spot
Food on site
---
September 11, 2016, Sunday, Washington, CT
Car-B-Que
Car Show
---
September 11th 2016 -Sunday Stratford Ct
Fourth Annual Corsair Restoration Benefit Car Show
Stanziale's Restaurant 595 Main St.
Across from the Stratford Army Engine plant
10 am-2pm
Proceeds go directly to the restoration of the Sikorsky Memorial Airport Corsair.
Food, Vendors,Prizes,
Top 20 Awards
Judging @ 1. Awards @ 3
$15 Show Car Registration
Walk-in Admission Free
Donations Gratefully Accepted
Corsair will be appearing along with other restored aircraft from
Ct Air & Space Center
Rain date Sunday September 18th
Mark Corvino
203-650-5603 or email @ mc42953@gmail.com
---
September 17, 2016, Saturday, Pound Ridge, NY
Pound Ridge Car Show
Pound Ridge Town Park 9am-4pm
Over 150 Trophies Awarded including "Best in Show"
Free Dash Plaques for the First 200 Cars!
Good Ol' Hometown BBQ & Pig Roast
50/50 Raffle & Silent Auction Tent full of Spectacular Prizes
Great Music
Car Related Vendors Welcome (please call)
Please, NO Dogs Allowed
For more Info, Please Call: (914) 764-5736 or (914) 764-4206
Or Visit Us at: www.poundridgecarshow.com

---
September 18, 2016, Sunday, Fairfield, CT
Fairfield Police Car Show
K-9 Unit Benefit
At Fairfield Warde High School
---
September 18th, Southbury CT
THE BIG ONE! The Roaring 20's 46th Annual Car Show! 9/18, Rain Date: 9/25. 8-5 at the Southbury Training School. $10 Show Cars, Admin $5, under 12 free. Cut-off year 1973. Over 40 judged classes, including Hot Rods, Street Rods and Customs judged by the Connecticut Street Rod Association. This year, featuring THUNDERBIRD as our Marquee Class! Car Corral & Swap Meet, Food Vendors. No pets or alcohol. Dir: I-84 E/W to Exit 14, Rte 172 N. FREE parking. For more info, call Kevin (860) 881-1145 e-mail or visit our official web site at www.roaring20s.club
*** Meet us next year at our NEW LOCATION, THE BETHLEHEM Fairgrounds 9/17/2017!*
---
September 18, 2016 Sunday South Glastonbury, CT
10:00 AM to 3:00 PM
Central CT Region - AACA
42nd Annual Auto & Truck Meet
NEW DATE AND LOCATION THIS YEAR, SAME GREAT SHOW!
Glastonbury Elk's Club Pavilion, 98 Woodland St., South Glastonbury, CT 06073
(formerly on Glastonbury Blvd in June)
Gates open at 9:00 AM for show vehicles and flea market vendors
No Rain Date this year.
No Cutoff, All Welcome
Pre 1928 Free
Awards in 20 Classes plus President's Choice, Chairman's Choice and Bob Carini Award
Flea Market, Car Corral, Food Vendors
Show Vehicles $10 including passengers
Spectators $5 per car
Youth Judging Program by Hagerty Insurance for kids 8 to 14
See our flyer for more information
---
September 18, 2016, Sunday, Berlin, CT
The New England Oldsmobile Club
20th Annual All-Olds Car Show
To Benefit the Shriners Hospitals for Children
Sunday Sept 18, 2016, 9 AM-3PM. Rain Date: Sunday Sept 25th
The Days Inn, 2387 Berlin Turnpike, Berlin, CT
Registration $15.
Free entry for pre-1949 Cars
Dash Plaques for first 100 Cars, Judging, Awards in all classes, Raffle, Food & Beverages, club merchandise, automotive artwork. Music by "Rent-A-DJ".
For more info contact The New England Oldsmobile Club at newenglandolds@gmail.com or
Check out club website www.neolds.com.
Look for us on Facebook.
Note: Rain date hotline 203-442-6034. Information regarding use of rain date will be posted on club website and facebook by 3:00 PM Saturday September 17th.
Come help us celebrate the 20th Anniversary of this great event. This will be our 6th year at this location. Last year 135 cars were entered. This year promises to be even bigger and better.
---
September 23, 2016, Friday, Westport, CT
Dragone Classic Motorcars & The Connecticut Seaport Car Club
Present 2016 Cruise Nights
6-9 PM
At Dragone Classic Motorcars
176 Post Road West, Westport, CT
203.349.8840
Open to All Classic and Special Interest Vehicles
No Cut Off Year!
3 Trophies Every Night
Dash Plaque #5 is Being Presented to the First 50 Show Vehicles
Ed & Rich of Car Tunes Classics will be Spinning Your Favorite Tunes
Vintage Good Humor Truck Selling Tasty Treats!
Great Food Available
Prizes - Trivia - Feel the Steel Contest!
Fun for the Whole Family!
Free Admission
2016 Dates: May 6, June 17, July 22, August 19, September 23
All Cruise Nights Will Have a Different Dash Plaque for the First 50 Show Vehicles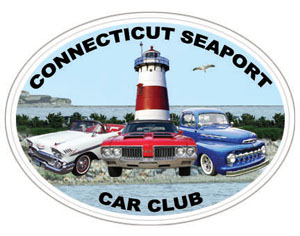 ---
September 24, 2016, Saturday, Bridgeport, CT
Rain Date: October 1, 2016
Bridgeport, Connecticut
East End Yacht Club Classic Car & Muscle Car Show
104 Bay Street
10:00 a.m. to 3:00 p.m.
Free admission for the public
Entry fee for drivers is $10.00 at the gate.
Food, Raw Bar, Music
Larry Allain, MC
Trophies, Ballot Voting, Commodore's Cup
For information, call Bob Silk at 203-261-8020
---
Saturday, September 24, 2016
Cruise, Blues & Brews Festival
Chester Fairgrounds, Chester, CT
10am to 3pm
Show off your car while enjoying performances by some of the region's most talented Blues Artists while sampling Great Food & Craft Beers in a family setting. All proceeds benefit the At-Risk Boys Fund at the Community Foundation of Middlesex County, CT!
Automotive Exhibitor Criteria: Antique or Unique!*
To exhibit at Cruise Blues & Brews, register securely online by submitting the make, model & year of your car and making a $15 Donation www.showclix.com/event/cruise-blues-brews-car-registration
*25(+) years old and/or unique in its own right. **INCLUDES Driver & Navigator (plus $1.50 handling charge).
Automotive Exhibitor Arrival: 8 am – 9:30 am
---

September 24 & 25th, 2016, Saturday & Sunday, Weston, CT
See Flyer for Schedule & Tour Info.
Our 5th annual Alden Sherman Classic is scheduled for
Sunday, September 25th 10am - 3pm at the Weston High School Campus.
We hope to make this the best Alden Sherman Classic to date. Therefore, we ask you for your help. Let's face it, car shows are about great cars and assuming all of you are not only enthusiasts in your own right, but are a part of a much larger community that encourages friendship and camaraderie. Therefore, we ask for your support in making this a great show by encouraging other enthusiasts to sign up.
Last year's event was such a great success, that we met our goal and were able to purchase a new bus for the senior center. The bus will be on display at the upcoming ASC.
We have a great team of judges who have already signed on, great food trucks, an amazing silent auction, and over 15 beautiful trophies! We will keep you updated as details of the show become available.
Our registration is open…
www.aldenshermanclassic.com
The first 100 registered will received a tote bag and commemorative pin.
---
September 25, 2016, Sunday, Stratford, Connecticut
"Sikorsky Aircraft's 11th Annual Car Show"
6900 Main Street, Stratford, Connecticut, 06615.
9:00 AM – 3:00 PM
"The car show features 44 classes (40 car/truck & 4 motorcycle classes) for all types of vehicles, all years, all makes. Registration is $20, vendor swap spots are $25. General admission is $5 (children under 12 are free). There will be a DJ playing music throughout the day. All proceeds from the car show are donated to the Wounded Warrior Project, Community Health Charities of Connecticut and the United Way. Registration starts at 9:00 at 6900 Main Street, Stratford, Connecticut, 06615. This show provides a fun filled day for the entire family. For more information, contact Sue Hitchcock 203-386-5672 or Ed Karedes 203-386-4075."
---
September 25, 2016, Sunday,New Rochelle, NY
Come to the Westchester County Car Show on Sunday, September 25, 11 a.m. to 5 p.m., at Glen Island Park. Registration is from 8 a.m. to noon. The show will feature displays of a wide variety of classic and collectible cars, street rods, and motorcycles, all carefully restored to mint condition or modified for performance. The Westchester Street Rod Association will present more than 100 trophies to the best vehicles -- classified by decades up to modified 2016. For information on entering a car or bike, call (914) 260-9274, (914) 666-2057, (203) 536- 0747 or (914) 844-8240. For information about being a vendor at the event, call Beth Bricker at (914) 231-4645. Admission is free for spectators. There is a parking fee of $5 per car. In case of rain, the event will be cancelled. The show is sponsored by Westchester County Parks, the Westchester Street Rod Association and Sassone Bros. Auto Body Repairs.
---
September 28, 2016 Wednesday, Norwalk, CT
NEAM
Presents
N.A.R.T.'s 60th Anniversary Celebration: 1957 - 1983
Film Presentations on the NART Spyder and
Bonneville Speed Record Runs in 1974
With Special Guests
Members of the N.A.R.T. Racing Team
6:30 to 9:00 PM
Stepping Stones Museum Multimedia Gallery
303 West Avenue
Norwalk, CT 06850
Tickets are $20 per person now available at
www.neautomuseum.org
---
Saturday, Oct 1st , 11AM- 3PM
4th Annual NHRHS Project Graduation Car Show
Heritage Park, 15 Great Hillwood Road, Moodus CT 06469
FREE admission to spectators!
Show Entry fee for VEHICLES is $10. Registration begins at 9AM. Featuring Wayne Carini as Celebrity Guest and Judge. Judging at 2pm
Event will feature Raffles, Touch-a-Truck, Bake Sale, Family Fun Activities. Refreshments will be available for purchase.
Rain Date is Sunday, Oct 2nd
Booth space available for Businesses and Community Groups. Please contact I. Haines: ihaines20@gmail.com
Questions? Please contact L. McLean: 860-874-2434
Our mission is to provide a memorable, substance free celebration for the Graduating Class of 2017. Project Graduation is proud to be sponsored by East Haddam Youth and Family Services.
---
October 2 , 2016, Sunday, Southport, CT
Southport Volunteer Fire Department
"Fired Up"
Car Show
All Along Pequot Ave. in Southport
The Streets are Transformed into a Car Show
10 AM - 3 PM
---
October 2, 2016, Sunday, Orange, CT
Pyramid Shriners 16th Annual Car Show
Oange Fairgrounds
---
October 2, 2016, Sunday, New Hartford, CT
CARTOBERFEST 2016
October 2, 2016 (or the first Sunny Sunday in October)
10am - 3pm
Hurley Park on the River at 37 Greenwoods Rd (Off RT 44) in New Hartford, CT 06057
For the 11th year, great friends are gathering with the cars, trucks, motorcycles, etc. to have a great time and benefiting the New Hartford Volunteer Fire & Rescue.
All Welcome - if you love your ride, show it
Dash Plaques
Door Prizes
Live Entertainment
Great Food
Lets not forget, a Rose for the Ladies.
100% of the proceeds are donated to the New Hartford Volunteer Fire & Rescue.
Always a good time and a great place to meet new friends.
Spectators Welcome
Sponsored by Time Was of New Hartford
---
October 9, 2016, Sunday, North Branford, CT
North Branford Fire Dept.
2nd Annual Car & truck Show
Sunday Oct. 9th. 2016
10:00AM - 2:00 PM
North Branford Int. School
654 Foxon Rd. (Rt. 80)
North Branford Ct. 06471
SHOW CARS
$10 Entry Fee All Types of Cars & Trucks Welcome
Dash Plaques/Goodie Bags (first 100 vehicles)
Trophies & Raffle Prizes
FREE SPECTATOR ADMISSION (Donations Welcome)
FOOD TRUCKS ( New Location close to display vehicles) Early Bird Coffee & Breakfast Sandwiches
VENDORS WELCOME
MUSIC BY DJ GARY
Last Year Over 130 Vehicles on Display & Over $2500.00 in Raffle Prizes Awarded
All proceeds to benefit NBFD Company1 For Info go to NBFDHQ.com or captjf@sbcglobal.net


---
October 16, 2016, Sunday, Seymour, CT
Seymour Lions Club
The 47th Annual Benefit Car Show - October 16th Rain Date Oct. 23rd
Flyer: Click Here
---
October 22, 2016 Saturday @ 7:30 AM
(Rain date 10/23/2016 7:30 am)
Oxford, CT - First Rally Point
Event Title:
The 8th Annual Fall Cobra, Classic and Hot Rod Rally Ride
Location:
The "Rolling Car Show" To Gillette Castle and Mohegan Sun for lunch
Details:
Starts at 7:30am in Oxford, CT. Trophies presented at Gillette Castle, 60/40 Raffle Rally Jack Pot
see Flyer for Rally Points and Times
Contact info: CCCHR - Gary cruisingclassiccars@gmail.com
---

epson printer cartridge