---
September 28, 2016 Wednesday, Norwalk, CT
NEAM
Presents
N.A.R.T.'s 60th Anniversary Celebration: 1957 - 1983
Film Presentations on the NART Spyder and
Bonneville Speed Record Runs in 1974
With Special Guests
Members of the N.A.R.T. Racing Team
6:30 to 9:00 PM
Stepping Stones Museum Multimedia Gallery
303 West Avenue
Norwalk, CT 06850
Tickets are $20 per person now available at
www.neautomuseum.org
---
September 30, 2016, Friday, Westport, CT

This event has been Cancelled Due to the Rain Forecast
We are going to try and rescedule it and post it here.

Dragone Classic Motorcars & The Connecticut Seaport Car Club
Present 2016 Cruise Nights
6-9 PM
At Dragone Classic Motorcars
176 Post Road West, Westport, CT
203.349.8840
Open to All Classic and Special Interest Vehicles
No Cut Off Year!
3 Trophies Every Night
Dash Plaque #5 is Being Presented to the First 50 Show Vehicles
Ed & Rich of Car Tunes Classics will be Spinning Your Favorite Tunes
Vintage Good Humor Truck Selling Tasty Treats!
Great Food Available
Prizes - Trivia - Feel the Steel Contest!
Fun for the Whole Family!
Free Admission
2016 Dates: May 6, June 17, July 22, August 19, September 30
All Cruise Nights Will Have a Different Dash Plaque for the First 50 Show Vehicles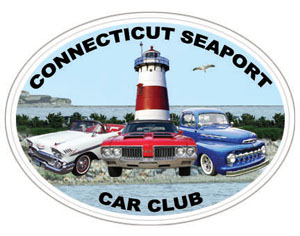 ---
Saturday, Oct 1st , 11AM- 3PM
4th Annual NHRHS Project Graduation Car Show
Heritage Park, 15 Great Hillwood Road, Moodus CT 06469
FREE admission to spectators!
Show Entry fee for VEHICLES is $10. Registration begins at 9AM. Featuring Wayne Carini as Celebrity Guest and Judge. Judging at 2pm
Event will feature Raffles, Touch-a-Truck, Bake Sale, Family Fun Activities. Refreshments will be available for purchase.
Rain Date is Sunday, Oct 2nd
Booth space available for Businesses and Community Groups. Please contact I. Haines: ihaines20@gmail.com
Questions? Please contact L. McLean: 860-874-2434
Our mission is to provide a memorable, substance free celebration for the Graduating Class of 2017. Project Graduation is proud to be sponsored by East Haddam Youth and Family Services.
---
October 1, 2016 Saturday Meriden, Ct.
Miller Memorial Community 4th Annual Car Show
360 Broad St. Meriden, Ct.
Time 11am-3pm- Rain Date October 2, 2016.
Open to all classic and special interest vehicles.
NO CUT OFF YEAR! $10. Entry fee for show cars .
Spectators free! Raffles, DJ, Trophies, Food – Fun for the whole family!
To benefit the Alzheimer's and Dementia Care Unit .
Linda Purcell, Admissions' Coordinator
Phone 203-237-8815 ext 309
Fax 203-630-3714

---
October 2 , 2016, Sunday, Southport, CT
Southport Volunteer Fire Department
This show is postponed until Sunday 10/9/16
"Fired Up"
Car Show
All Along Pequot Ave. in Southport
The Streets are Transformed into a Car Show
10 AM - 3 PM
---
October 2, 2016, Sunday, Orange, CT
Pyramid Shriners 16th Annual Car Show
Show is cancelled and is now on Sunday 10/9/16
Oange Fairgrounds
---
October 2, 2016, Sunday, New Hartford, CT
CARTOBERFEST 2016
October 2, 2016 (or the first Sunny Sunday in October)
10am - 3pm
Hurley Park on the River at 37 Greenwoods Rd (Off RT 44) in New Hartford, CT 06057
For the 11th year, great friends are gathering with the cars, trucks, motorcycles, etc. to have a great time and benefiting the New Hartford Volunteer Fire & Rescue.
All Welcome - if you love your ride, show it
Dash Plaques
Door Prizes
Live Entertainment
Great Food
Lets not forget, a Rose for the Ladies.
100% of the proceeds are donated to the New Hartford Volunteer Fire & Rescue.
Always a good time and a great place to meet new friends.
Spectators Welcome
Sponsored by Time Was of New Hartford
---
October 5-8, 2016, Wednesday-Saturday, Hershey, PA
2016 AACA Eastern Regional Fall Meet," a production of the Hershey Region AACA, and held on the grounds and parking lots surrounding HersheyPark and The Giant Center, at Hershey, PA
Info: http://www.hersheyaaca.org/fallmeet.htm
---
October 6, 2016, Thursday, Westport, CT
Note the Date
CT Seaport Car Club
Monthly Meeting
7:30 PM, Last Tuesday of the Month
At VFW Post 399
465 Riverside Avenue
Westport, CT
For Members and People Who Want Join Our Club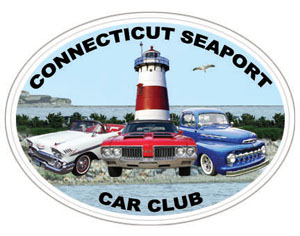 ---
October 8, 2016, Saturday, South Glastonbury, CT
11th annual Hot Rod Fallout
Pre '63 hot rods & customs
October 8, 2016
Elks Lodge, South Glastonbury CT
Gates 10am
More Info. Click Below
Hotrodfallout.com
---
October 8, 2016, Saturday, Newtown, CT
Maplewood Classic Cruisers
Presents Alzheimer's Benefit Car Show
---
October 9, 2016, Sunday, Bridgeport, CT
Bridgeport Police Memorial Car & Bike Show
Downtown Bridgeport at McLevy Green
9:00 AM - 3:00 PM
---
Sunday, Oct. 9, 2016, Darien, CT
WHITEWALLS CAR CLUB OF CONNECTICUT FALL CLASSIC CAR CRUISE
The Piedmont Club, 152 Hecker Ave., Darien, CT - 3 PM TO ?
OPEN TO ALL PRE 1990 CARS & MOTORCYCLES, CLASSIC
OR COLLECTIBLE CARS OF ANY YEAR
Our parking lot will be reserved for your classic, antique, collectible, race car or motorcycle. Daily drivers may park across the street or at nearby public parking.

4 PM TO 7 PM, Our chef Rolando (Roland Morin) will
make your hot dogs and burgers to order. Garden salad, condiments and Roland's famous "try it if you dare" chili is also for sale.
Our lounge is open, with soft drinks, beer and a full cash bar.

Music provided by DJ Little Jimmie, direct from the Boston are and of Lead East fame.

The Piedmont Club, 152 Hecker Ave., Darien, CT
(I-95, exit 10, south on Noroton Ave., left onto Hecker)
contact Cadillac Joe, WWCC President – 203-323-5258
whitewallscarclub.ct@gmail.com
---
October 9, 2016, Sunday, North Branford, CT
North Branford Fire Dept.
2nd Annual Car & truck Show
Sunday Oct. 9th. 2016
10:00AM - 2:00 PM
North Branford Int. School
654 Foxon Rd. (Rt. 80)
North Branford Ct. 06471
SHOW CARS
$10 Entry Fee All Types of Cars & Trucks Welcome
Dash Plaques/Goodie Bags (first 100 vehicles)
Trophies & Raffle Prizes
FREE SPECTATOR ADMISSION (Donations Welcome)
FOOD TRUCKS ( New Location close to display vehicles) Early Bird Coffee & Breakfast Sandwiches
VENDORS WELCOME
MUSIC BY DJ GARY
Last Year Over 130 Vehicles on Display & Over $2500.00 in Raffle Prizes Awarded
All proceeds to benefit NBFD Company1 For Info go to NBFDHQ.com or captjf@sbcglobal.net
---
October 9, 2016, Sunday, New Fairfield, CT
Lions Club 25th Annual Vintage Car Show at Squantz Pond State Park
10 AM - 4 PM
http://e-clubhouse.org/sites/newfairfieldct/page-10.php
---
October 11, 2016, Tuesday, Bridgeport, CT
We need to have some cars visit students once again at Fairchild Wheeler.
Tuesday October 11th, between 9:20am- Lunch at noon.
I would love to have anyone out that has cars that fit from the early 1900s into the 1950s
would be great.
Vicki Maurer
US History Fairchild Wheeler
vmaurer@bridgeportedu.net
840 Old Town Rd, Bridgeport, CT 06606
Phone: (203) 275-3337
---
October 15, 2016, Saturday, Guilford, CT
Moroso Performance Presents
Spooktacular 2016
Car Show Event
10 AM - 3 PM
80 Carter Drive, Guilford

---
October 16, 2016, Sunday, Seymour, CT
Seymour Lions Club
The 47th Annual Benefit Car Show - October 16th Rain Date Oct. 23rd
Flyer: Click Here
---
October 22, 2016, Saturday, Oxford, CT
the last show at Fritz's will be October
22nd with a rain date of the 29th.
It will start at 2 end around 6 if not sooner depending on the daylight
(haha)
There will trophies,giveaways 50/50 raffles.. good food and great people
72 Oxford Rd., Oxford, CT 06478, 203-888-9604. Family style diner since October 1954 serving the best breakfast, lunch and dinner.

---
October 22, 2016 Saturday @ 7:30 AM
(Rain date 10/23/2016 7:30 am)
Oxford, CT - First Rally Point
Event Title:
The 8th Annual Fall Cobra, Classic and Hot Rod Rally Ride
Location:
The "Rolling Car Show" To Gillette Castle and Mohegan Sun for lunch
Details:
Starts at 7:30am in Oxford, CT. Trophies presented at Gillette Castle, 60/40 Raffle Rally Jack Pot
see Flyer for Rally Points and Times
Contact info: CCCHR - Gary cruisingclassiccars@gmail.com
---
October 22, 2016 Saturday, Middleboro, MA
- SHOW DATE CHANGE -
17th Annual New England Speed Meeting
"Gathering of the Faithful"
NEW DATE
October 22, 2016 9am -3pm***Rain Date Oct. 23***(Call if weather looks questionable) F.A.S.T. NORTHEASTCELEBRATE 17 YEARS OF "OL SKOOL" SPEED WITH US
ALL Pre 1960 RODS, CUSTOMS, VINTAGE RACE CARS AND ENTHUSIASTS ARE WELCOME
This Meeting Is For All Types of Vintage Speed 4's, 6's, 8's, Flatheads,
Nailheads, Hemi's, Dragsters, Gassers, Vintage Stock Cars, Sprint Cars, Midgets & Roundy Rounds.
Easy on - Easy off Trailer Parking for Race Cars
Door prizes, food and refreshments including chowdah
PEIRCE PLAYGROUND: 26 Jackson St (off Rt. 105) Middleboro, MA

Rt. 105 - Exit 4 on Rt. 495 - Easy access via Rt. 24, 44 & 495
At end of Rt. 105 exit ramp follow Rt. 105 N approx 2 miles, turn right on Jackson St.
*** GPS address: 26 Jackson St. Middleboro, MA 02346 ***
Nostalgic T-shirts, Sweatshirts, & Hoodies will be available
Reserve your t-shirt, sweatshirt or hoodie prior to the show…every year we sell out of certain sizes…don't miss out …payment required by September 15th via PayPal or check…pickup at the show…contact us regarding sizes & prices.

Tickets $10.00 each payable at the Gate (children under 12 FREE)
Vendor Space $25.00 (admits 2) - Limited space available, reserve early
*Goodie bags for the first 500 people*
All proceeds from food sales go to the Rochester Lions Club
See photos from last year's "Gathering" on the web at www.autonetnewengland.com
For more information contact: Jack Wegman Email: jackwegman@verizon.net Phone: 508-888-3103
---
October 30, 2016 Sunday, Stratford - Milford, CT
32nd Annual Toys for Tots Vintage Auto Event.
By The Cruisin' East Car Club
Starting at Riverview Bistro from 10 till 12:30 then up to Goodies on cherry st Milford till 4:00
Admission is a unwrap toy preferred also supermarket cards excepted.
Rain date is Nov. 13. We hope to see old friends and clubs there so we all can put a smile on the faces of the kids on Christmas day!
Please support a great cause!!
---
November 6, 2016, Sunday, Bristol, CT
27th Annual Connecticut Street Rod Association Fall Swap Meet
CSRA presents its 27th Annual Fall Swap Meet. It will be held on November 6th, 2016 in the Lake Compounce parking lot, 186 Enterprise Drive, Bristol, CT 06010. 6:00 AM - 3:00 PM, rain or shine. There is no pre-registration, all spots are first come first served basis. Plenty of spots available. No one has ever been turned away. Saturday set-ups are ok but no staying overnight. The parking lot is lit and secure
Saturday set-up is from 10am to 4:30pm. If you set up on Saturday you will get a pass to come back in on Sunday but will have to park in Spectator Parking. Sunday morning you must walk to your spot due to Insurance Regulations. You may NOT drive to your pre set-up area Sunday morning! You will be able to drive to your spot on Sunday afternoon after 2:00 PM to pick-up your stuff. Anyone who has to leave early must see a CSRA member for assistance… There are 3 Parts pick-up areas. CSRA Members will assist anyone picking up parts… Vendor spots are $40.00 each. Spots are 15'w x 22'lg (Example: truck & trailer may need 2-3 or more spots) please measure to see how spots are needed… Spectators $10.00 per person. Kids under 12 free… Cars for Sale $30.00 car & driver only + additional $30.00 for trailers. Also you may unload trailers on Saturday only! NOT Sunday!... NO PETS ALLOWED (except service animals) all other pets will be turned away with no refund!... There are hotel rooms available in the area, go to Hotels-Bristol CT to find rooms… Take exit 31 off of I-84, from either direction, and follow the signs to the swap meet.?More info, call 203-697-9113
---

epson printer cartridge