Note: Listings may be subject to change.
Please use contact information in each listing to confirm.
Cruise Listings are Updated for 2017 as they Come in and are Confirmed.

If you know of a local Cruise Night that is not posted here
or see incorrect information, Please email us!

Email the Cruise Night Hotline: Click Here!

---
Starting May 25, 2017,Thursday for 2017
CRUISE IS CANCELLED FOR JULY 27 DUE TO POSSIBLE RAIN
NO RAIN DATE DUE TO OUR FAIRFIELD UNIVERSITY CAR SHOW
NEXT CRUISE IS AUGUST 31
The Port 5 Naval Veterans in association with
The Connecticut Seaport Car Club
Presents Summer Cruise Nights on the Harbor
5 Nights This Season!

June 1, June 22, July 27. Auugust 31, September 28
Rain dates are following Thursday
6-9 P.M.
At Port 5 Naval Veterans Hall
69 Brewster Street, Bridgeport, CT
3 Trophies, Prizes Awesome Food
Featuring DJs: Car Tune Classics
Playing tunes and trivia with The Feel the Steel Contest!
45 Car Limit - No Cut off Year!
Gates close when Parking Lot is Full
Info: Rich 203-610-3330
---
---
Sunday Night Cruise 2017, Monroe, CT
Bella Rosa Cruise Night
---
Every Sunday - Stratford, CT, 2017
VFW Post 9460 Cruise
Beginning April 23 -
Starting at 5 p.m.- Located across from
Home Depot, Barnum Ave. Ext.
100 Veterans Blvd., Stratford, CT tel. 203-377-9112
---
May - October 2017 - Sunday, Norwalk, CT
Every Sunday morning, weather permitting, from around 9 AM to 12 PM we gather at the AMF Rip Van Winkle Lanes parking lot (701 Connecticut Ave, Norwalk, CT 06854) / Donuts Delight parking lot (707 Connecticut Ave, Norwalk, CT 06854) which works out great if anybody wants coffee or anything to eat in the morning while having a huge parking lot for plenty of cars and room. We have asked management to use the parking lot and there are no problems either, and the site is on Route 1, almost across from Walmart on Connecticut Avenue. We hope to increase our turnout with advertising on your useful website, and we plan to run until the end of October. Feel free to post these numbers, 203-984-6409 and 204-838-7306, on your site if anybody needs more information. I hope to see you at our Sunday mornings cruise!
---
April to October 2017 - Sunday, Milford, CT
Every last Sunday of the month
58 River Street, Milford CT (southbound side of train station)
Downtown Milford Cars & Coffee
8:30AM-11:30AM
A monthly gathering of automotive enthusiasts over coffee from nearby Scratch Baking and Cafe Atlantique. All makes, models, and years welcome. Free admission. We exist to bring like-minded enthusiasts together and to help support local businesses in Downtown Milford.

https://www.facebook.com/carscoffeemilford/


---
Year Round Weather Permitting, 2017 Every Sunday, Cos Cob, CT
HUDSON CITY SAVINGS BANK
SUNDAY MORNING CRUISE
THESE FOLKS HOST A NICE FRIENDLY CRUISE
THEY TOLD US IT WILL RUN ON ANY SUNDAY MORNING
THAT THE WEATHER IS NICE OVER THE WINTER MONTHS
9:00 AM - 12:00 Noon
Located at:
Hudson City Savings Bank
100 East Putnam Ave., Cos Cob, CT 06807
203-862-8400
I-95 South to Exit 5, Left, About 6 Stop Lights on Right
Next to CVS
---
May - October 2017 - Sunday, Derby, CT. Every Sunday evening 5-9PM. Heavenly Donuts, No Cut Off Year! Derby/Orange Town Line in front of Wal-Mart
658 New Haven Ave. Derby, CT
203-734-4185
---
May - October 2017- Sunday, Wolcott, CT. Every Sunday Afternoon 12:30-5PM Illusions Dance Club & Restaurant
1639 Wolcott Rd., Wolcott, CT
No Cut Off Year!
50/50 Raffle, DJ, 3 Trophies Every Sunday!
Full Food Menu & Service Bar
203-879-4785
---
May - October 2017 - Sunday, Scarsdale, NY
Every Sunday evening 5-9 PM. Near Lord & Taylor, Behind Starbucks
White Pains Road
Sponsored by The Moonlight Cruisers Car Club
Info: 914-494-4286
www.myspace.com/moonlightcruisn
---
June - September 2017 - Sunday, Middletown, CT
RT 66 CRUISERS...... Middletown CT Chapter
"Cruise Night on The CT River" (next to the canoe club)
On HARBOR DRIVE Middletown CT
Street Rods- Antiques - Trucks - Show Cars
June 12, 2016 July 10, 2016 August 14, 2016
September 11, 2016
Sunday 3:00pm to 7:00pm
50/50 Raffle, Trophies, Food , and Music
SHOW CARS FOLLOW THE SIGNS TO HARBOR PARK!
---
May-October 2017 - Monday, Prospect, CT
Prospect may 1 thru Oct 9 Mondays twice a month bakis pizza 5:30 to 8:00 pm 105 Waterbury rd prospect ct rain dates will be on the following Monday for information call Carl 203-725-6704 or baki 203-758-7311

---

Monday night cruise; Washington Commons (rt5) 117 Washington Avenue North Haven Connecticut. 5 p.m. till dark, DJ, 50/50. info, 203-641-4226.
---
May-September 2017 - Monday, East Granby, CT
Mark's Super Cruise Night
Every Monday
5-9 PM
The Largest Weekly Cruise Night in New England!
See Flyer Page 1: Click Here
See Flyer Page 2: Click Here
http://www.markscruisenight.com
---
April - October 2017 - Monday, Stamford, CT. Monday Cruise Night, Every Monday Night, 6:00 - 9:00 PM, 1983 & Older cars welcome, Burger King, 1068 High Ridge Road, Sponsored By The Black Road Auto Club, Info: Gene Rizzi (203) 561-1969 Or Frank Macchio (203) 273-2152
Flyer: Click Here
---
Monday, Milford, CT
Starting May 30, 2017
At Gulf beach in Milford time is 6-9:00 PM
Crusin' East Car Club
Cruise Night
---
April 25 through October 2017 Monday, Middlebury, CT
5:00-8:30
Monday Night Cruise
Begins April 25
Le Bobadel Gourmet
Market & Deli
819 Straits Turnpike
Middlebury, CT
No cutoff year
(203)
528-4061
---
Tuesday Night Cruise 2017, Monroe, CT
Bella Rosa Cruise Night
---
Every Tuesday from May 9th to Sept 26th, 2017. Cheshire, CT
Wayback Burgers Car Cruise
957 S Main St, Cheshire, CT
5pm to sunset. Door prizes, 50/50 raffle, trophies, oldies music and $3.99 double cheeseburgers.Contact: Norm 203-228-3465 or Christine 203-439-0060

---
Tuesday Night Cruise
2017 Monthly Natures Art Yester Year of Oakdale Car Cruise

First Tuesday Cruise, Nature's Art (The Dinosaur Place), Yesteryear of Oakdale Auto Club, Rt 85 Chesterfield, CT, 5pm- -8pm
Pre-1978 Vehicles, Classic and Antique Cars and Antique Drivers too!
Rain Date following Thursday, Concessions, Food, Beverages, Trophies, Live DJ and Raffle Prizes,
Up to 300 cars, lots of parking. May 2, June 6, July 4. August 1. September 5.
---
Tuesday Night Cruise 2017
at goodies of orange 111post road orange ct every Tuesday 1st of may till last tuesdat of September no 4x4s no beaters,tunersor burnouts cut off year 1985 from 600pm till 800pm music 50/50/raffle
---
Dates: Every Tuesday Night May 17-Sept. 27, 2017
Location: Wayback Burgers,
957 S Main St, Cheshire, CT
Name: Wayback Burgers Car Cruise DJed by Brass City Cruisers
Addres: 957 S Main St, Cheshire, CT
Time: 5-8pm
Info: Door prizes, raffles, DJ playing oldies, trophies. Burgers, hot dogs, chicken and more available for purchase.
Contact: Norm 203-228-3465
---
Every Tuesday night through October 6, 2017, East Windsor, CT
(weather permitting) from 5pm
-8pm. Raffle prizes, car prizes, food, music by DJ Dennis and you can
ride the trolley cars(small charge for trolley rides). Free admission
for those showing their cars or those that want to come to admire them.
More info and photos can be found on our website, www.ct-trolley org.
CT Trolley Museum
East Windsor, CT 06088
860 627 6540

---

July - October 2017 - Tuesday, East Windsor, CT
American Legion Riders
are proud to announce
Cruise Night
sponsored by
Lincoln Technical Institute in East Windsor, CT
4pm to 8pm
being held at
American Legion Post 102
20 American Legion Drive
Manchester, CT
All Cars and Bikes are welcome
There will be refreshment to purchase
Any question call 860-646-7961 or Fred 860-808-4585 or Rachel 860-468-0134
Flyer: Click Here
---
Now - September 2017 - Tuesday, East Windsor, CT
Tuesday Night Cruise Nights at the
Connecticut Trolley Museum in East Windsor, CT.
every Tuesday
until the end of September from 5pm-8pm. We have best in show prizes and
driver tickets, food, music, and trolley rides.
58 North Road
East Windsor, CT 06088

---
May - October 2017, Tuesday night cruise, Essex, CT, 5-8 PM,
Iron Chef
21 Plains Road (RT 153), Essex, CT
Prizes - Food - Trophies
Info: 860-526-2605
---
Ponus Yacht Club Cruise Night 2017
Starting Wednesday, July 6th
Every Wednesday night starting at 5:30, weather permitting
Ponus Yacht Club
41 Bateman Way, Stamford, Ct. 06902
Open to all show cars and bikes
Food and snacks will be served outside, but the restaurant is still open to anybody that would like drinks or dinner.
Vinnie Ferrone will be playing live music for the first show
50/50 Raffle
Free admission
Please contact Rob Sabia with any questions
203-667-0683
---
April 26th and every Wednesday April 26 Thru October, Oxford, CT 2017
Fritz's Snack Bar
Cruise Night
Every Wednesday Weather Permitting
5-9 PM
Route 67
72 Oxford Road, Oxford, CT 06478
Oxford / Seymour town line
Great Food and a Great Time!
Every other Wednesday is Trophy Night!
Info: Chippy: 203-410-9401
Special: Spring Dust Off April 22, 2017, 2PM - On
Flyer: Click Here

---
April 19, 2017 and every Wednesday Thru October, 2017.

April 19, 2017 and every Wednesday thru October 2017. Glenwood Cruise
Hamden 6:00 PM to 10:00 PM. at Glenwood Drive-in, 2538 Whitney Ave, Hamden Ct.
DJ, Car giveaways, Glenwood gift certificates, trophies. For more info call George Civitelli
203-288-5063. Last cruise will be announced at a later date.


---
May 6 - October, 2017 Every Wednesday, Stamford, CT
STAMFORD VETTE & CLASSIC CARS. CRUISE NIGHT 2016
AT STOP & SHOP 1937 WEST MAIN STREET U.S.1 STAMFORD CT.
EVERY WEDNESDAY FROM 6 TO 9 P.M.
RAFFLE, GIVE- A-WAYS,50/50, MUSIC.
INFO ART 203-644-4454
Hi everyone this in from Art of Stamford Vettes and Classic Cars; They will start cruising the first Wednesday in May (5/6/2016) at the Stop & Shop Rt. 1 on the Stamford / Greenwich border.
Hope to see you all there!

---
May- September 2017, Every Wednesday, Norwalk, CT
Car Cruise
Wednesday night weekly cruises now at
McDonalds Route 7 (Main St.)
Just off Meritt Parkway exits 39 & 40 Head South
Sponsored by Coachmen Rod & Custom Car Club
Show Cars & Vehicles 1983 or older & Special Interest Cars after 1983
No Tuner Cars
Trophies & Door Prizes at every cruise
6-9 PM - Food Available

Note:Special Tuesday Evening Beach Cruises will be at Calf Pasture Beach
Visit our car show listing page

---
May - September 2017, Every Wednesday, West Haven, CT
Car Cruise
Wednesday night weekly cruises now at the
Savin Rock Conference Center
Captain Thomas Blvd., West Haven
Just off exit 42, I-95.
Sponsored by Time Machines & The Kilroy Cruisers Car Clubs
Music & Food
5:30 - 9:00 PM
---
April - October 2017, Every Wednesday, Derby, CT
Corvette Cruise Night... Derby Ct, Corvette Night Every Wednesday Night About 5 PM, Weather Permitting, Located At Heav'nly Donuts, 658 New Haven Ave (Rte 34, In Front Of Wal-Mart), All Corvettes Welcome
---
May - October 2017, Thursday Night Cruise, Berlin, CT
Summer Cruise withThe Over the Hill Gang
At Berlin Pizza
Who: Any HOTROD, STREET ROD, PRO STREET, MUSCLE CARS
Why: Great FUN for family & friends. Music, Prizes, Raffles,
Trophies!!
Every other Thursday 5:30 p.m. 8:30 p.m.
Weather Permitting
 no rain dates
Weather permitting; see our web site for cancelations.
Be sure to like us on Facebook Over The Hill Gang CT othgct
www.overthehillgangct.bizland.com
PLEASE NO BOOZE OR BURNOUTS!!! Thank You
Where: Berlin Tpke. 196 Wilbur Cross Highway, Berlin, CT.
(across from Home Depot)
Summer Cruise
Thank You to our Sponsors: Berlin Pizza and Home Depot
Flyer: Click Here
---
May - October 2017, Thursday Night Cruise, Bridgeport, CT
"Cruzin Back To The Ballpark"
This will be a monthly event held at The Bridgeport Bluefish Stadium on the 3rd Thursdays of each month. (with 2 exceptions, see flyer)
There will be live bands, BBQ, Traditional ball park fare, park giveaways, and tons more.
Flyer: Click Here

---
May - September 2017, Thursday night cruise, Ansonia, CT,
Seymour Lions Club Presents
Summer Cruise Nights 2017
At Tri-Town Plaza
814 Derby Avenue, Seymour, CT 06483
Sunday, May 7, 2017 Season Dust-Off Cruise – 12:30-3:30 p.m.
Sponsored by Sabo Auto Body
Thursday Nights Cruise is from 5:30-8:30 p.m.
May 18th – sponsored by Brookview Heavy Equipment
June 1st – sponsored by CT Partnership for Children
June 15th – sponsored by Fitzgerald Automotive
June 29th – sponsored by Hot Dog Joe
July 6th – sponsored by Tire Shak, Inc.
July 20th – sponsored by Sardo's
August 3rd – sponsored by Maxies Signs
August 17th – sponsored by Law Office of Karen Fisher
August 31st – sponsored by Botti & Lenners Auto
September 14th– sponsored by Derby Auto Body
September 28th – sponsored by Sibby's Automotive
Weather permitting - Trophies awarded
All Class of Cars, Trucks and Motorcycles are Welcome!
Visit us on our Facebook page "The Seymour Lions Club"
The 48th Annual Benefit Car Show - October 15th Rain Date Oct. 22nd
For additional information please contact: Corky @ 203-619-1571 or Melissa @ 203-430-9356
or email us at seymourlions52@att.net
Don't forget to bring us your old eyeglass, sunglasses and hearing aides!
---
April 21, 2017- October, 2016, Thursday, Milford, CT
Every Thursday
Hosted by the Cruisin' East Car Club
Goodies Drive In, 170 Cherry Street in Milford
Cruise Night & Social
Now Winter Social Every Monday & Thursday Night
6-9 PM
Great Food
Fun For All!
Beach Cruise Starts May 30, 2016, Monday Evenings 6-9 PM
Email for info: Click Here
---
Starting Thursday May 4th Frankie and his Shiftmasters of Westchester will be taking over our old cruise next to Acme supermarket 2017
275 South Ridge Street Rye Brook,NY.
They will meet every first and third Thursday of the month,

---
Starting May 12, 2017, Friday, Westport, CT
Dragone Classic Motorcars & The Connecticut Seaport Car Club
Present 2016 Cruise Nights
6-9 PM
At Dragone Classic Motorcars
176 Post Road West, Westport, CT
203.349.8840
Open to All Classic and Special Interest Vehicles
No Cut Off Year!
3 Trophies Every Night
Ed & Rich of Car Tunes Classics will be Spinning Your Favorite Tunes
Vintage Good Humor Truck Selling Tasty Treats!
Great Food Available
Prizes - Trivia - Feel the Steel Contest!
Fun for the Whole Family!
Free Admission
May 12, June 16, July 14. August 18, September 15
Rain dates are following Friday
---
MAY 20TH THROUGH SEPTEMBER 30, 2017
EVERY FRIDAY
NORTH BRANFORD, CT
5:30PM TO 8:30PM
DAIRY QUEEN & MCDONALDS
CORNER OF RT 80 & 139
RAFFLE WITH PRIZES
50'S 60'S MUSIC BY
WNHU DJ ROCKIN' RICHARD
TUNE TO 88.7 FM OR INTERNET
WWW.WNHU.NET WEDNESDAYS 10AM TO 1PM
FOR FURTHER INFORMATION.
OR CALL 203-484-2023

---
September 18 – October 30th 2017– Friday, Southington, CT- Every Friday Night 5pm-9pm.
Casa Margarita Restaurant
2176 West Street Southington, CT
Right Across from ESPN on the Bristol Line!
Food Specials, Trophies, DJ & More.
860-845-8645
Flyer: Click Here
---
May 13 - September 2017 - Friday Night Cruise - Monroe, CT - Village Square Shopping Center, Route 111, Monroe Turnpike, Monroe, CT.
Friday nights, May - Oct, 6:00 - 8:30PM
1978 Cut Off Date - For more info, visit: www.classicnights.com

Starting May 13th through September The Classic Nights Car Club
will start their 31st year of continuous Cruise Nights at the Village
Square Shopping Center, Monroe Turnpike (RT 111), Monroe, CT.. Cruise
nights are every Friday 6:00 pm to 8:30 pm (weather permitting).
Members of the Classic Nights come from the towns of Bridgeport,
Monroe, Shelton and Trumbull. Participants and spectators come from all
over Connecticut and occasionally New York.
As a body, the club participates in car shows, cruise nights held by
local and some out of state car clubs and various organizations. In
past years we have worked closely with MADD, The P.T. Barnum
Foundation, running their car shows, taking part in the City of
Bridgeport's 4th of July Great Street Parade and the Monroe Rotary Car
Show. The Classic NIghts Car Club donates to many worthwhile causes,
and charities, (American Cancer Society, JDRF, EMS, Fire & Police
Depts., local Food Drives, and Make A Wish). We also enjoy taking an
active part in community service such as, the Masonicare at Newtown Car
Show.
The club has been hosting cruise nights in Monroe since 1978.
Spectators can view stock, custom, classic, antique, rat rods and other
types of historical vehicles. This is an opportunity for young people
to see these rolling works of art and for older generations to
reminisce about days that have gone by. There is no charge for
admission to the cruise night. Bring the family and have a great time.
our sponsors
Village Square, Dairy Queen (Monroe), McGowan's Pizzaland, and
McDonald's (Monroe)
---
May 1 - September 2017- Friday Night Cruise - Milford, CT
At McDonald's, 1376 Boston Post Road , Milford CT
(Across From The Milford Mall)
6:00 - 9:00PM
1981 Cut Off Year
Flyer: Click Here
Hosted by Blood, Sweat & Gears Car Club
For more info., visit:www.bloodsweatandgearscarclub.com
---
Now - September 2017 Friday Night Cruise - North Branford, CT
Cruise nights EVERY Friday from 6pm to 9pm
at the McDonalds and Dairy Queen 280 Branford Rd, North Branford, CT
We cruise through to October. Classic cars from everywhere.
Listen to our veteran classic oldies DJ Rockin' Richard (Phillips)
as he spins the greatest Doowop, Rock n' Roll, Rhythm & Blues,
Instrumentals and classic cars songs. Make a request for anything
from the 50's or early 60's. Free raffle prizes like car products,
McDonalds food certificates, Dairy Queen ice cream certificates,
Free Oil Delivery, T Shirts & Hats Free Haircuts and more prizes
change every week. Tune in to the Rockin' Richard Oldies internet
show every Wednesday from 10am to 1pm at www . wnhu .net or
at 88,7 FM Radio for all the great oldies and car cruise updates.
Call Richard at 203-484-2023 for further information.


---
May - September 2017 - Friday Night Cruise, Wethersfield, CT - Hooters
Every Friday Night - 6:00 - 9:00 PM
Trophies - 50/50 - Door Prizes - DJ
1731 Berlin Turnpike, Weathersfield, CT
860-563-8083
Sorry No Imports
---
May - September 2017 - Friday Night Cruise, North Branford, CT
Weekly car cruise at
McDonalds and Dairy Queen
280 North Branford Road
North Branford, CT
Every Friday 6pm - 9pm
Classic Cars - WNHU-FM oldies DJ
Rockin' Richard spins the old sounds.
Prizes, raffle, good times.
203-484-2023 info.
---
Now thru September 2017 - Friday Night Cruise, Danbury , CT
Danbury Duckpin Bowling Lanes and I started a classic car outing last year and did it four times but this year I'm doing them every Friday night up to Sept 5th. No cost to enter. Month of July, Aug and Sept. Friday nights from 5pm to 9pm. Year 2014. Danbury, Connecticut. Event title is 50's Summer Nights. Location is at Danbury Lanes #7 East Hayestown Rd. Zip 06811, In Hatters Park with good parking. Music comes from the lanes which has most of the interior still looking like the 1950's. For info. call me at 203-744-4504.
---
Marty Forbes presents Friday Night Cruise In North Branford Ct at McDonalds and Dairy Queen corner of Rt80 and 139 from 5:30 to 8:30 Starting May 12, 2017 Great food and Ice Cream. Oldies tunes by Rockin Richard.
---
Friday Night Cruise Route 32, Uncasville
All Classic Cars, American & Foreign, Muscle Cars,
Post WWI Vehicles, Trucks, Military AND Special
Interest VehIcles are Welcome.
Car Cruise
EVERY FRIDAY
starting
in june
6pm TO 8pm
CRUISE ON
over TO
ALL PARTICIPANTS RECEIVE A
COUPON FOR FREE WINGS!
---
April 8th thru Sept. 9, 2017, Saturday Bridgeport, CT
Monthly Cruise at the Club
The Germania Schwaben Club along with The Round Town Cruisers Car Club invite you to our Monthly Cruise at the Club.
Location: The Germaina Schwaben Club
416 Horace Street
Bridgeport, CT
12:00 to 3:00pm
Join us the second Saturday of each month. Rain dates are the following Saturday. Cruise schedule:
April 8th
May 13th
June 10th
July 8th
August 12th
September 9th
Music, door prizes, raffles and great food at very reasonable prices served under the outdoor pavilion. Indoor cash bar. Participant judging for some of the nicest cruise trophies in the area.
All Hot Rods, Customs, Classics, Muscle Cars and Street Machines welcome. No cut off year.
For more information contact Mike @ 203-814-8315
Take East Main St. to York St. and left onto Horace St.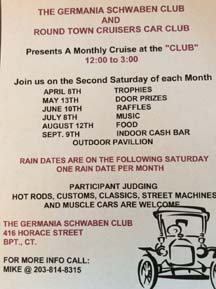 Click Above to Enlarge
---
Every Other Saturday, 2017, Saturday night cruise, Wallingford, CT
Cruise Nights 2017 Presented by the Saturday Nite Cruizers. The Saturday Nite Cruizers invite you to join us for our 25th season of cruising at the Duchess Restaurant, 124 Church Street (Route 68) in Wallingford from 5:00 to 8:30 pm. Our first cruise is Saturday May 13th, (no cruise on May 26th) then held every second and forth Saturday of the month thru September 23rd (no rain dates). Music and great food available. 6 trophies every cruise and no motorcycles please. No cutoff year, but we do reserve the right to refuse entry to any vehicle. Additional info call June 860-919-8514, Jack 860-543-5880 or e-mail jdanovich00@gmail.com. Visit our website @ Saturdaynitecruziers.org
Cruise Dates
May 13
No cruise on May 27th
June 10
June 24
July 8
July 22
August 12
August 26
September 9
September 23
---
April 22 - October 2017, Saturday night cruise, Westerly. RI
We are having a new cruise night every Saturday Night from 4 PM To Dusk at The Shore Dinner Hall Restaurant, 227 Post Road, Westerly, RI , starting April 22, 2017. DJ-Host will be DJ Car-Guy. Please see www.djcarguy.com for other information.. My phone number is 401-575-6933.

---
April 22 - October 2017, Saturday night cruise, Monroe, CT,
Monroe Street RoddersClassic car cruise.
Classic car cruise. Bill's drive in Rt.111 Monroe,Ct. Sponsored by The Monroe Street Rodders. Saturday April 22, 2017 through October. 4:00 P.M. to 9:00 P.M. Classics,street rods,muscle cars,customs. Cut off year is 1985. Good food,music,50/50 raffle,give aways. trophies. Fun for the whole family. No alcohol,burnouts,pets, carriages,bicycles,skateboards


(203) 268-8808
---
May - October 2017, Saturday night cruise, Berlin, CT, 4-8 PM,
NEW Location! Charter Oak Firebirds, who brought you 10 years of cruise nights at Panera has a NEW location
for 2017 at the Pine Loft Restaurant, 1474 Berlin Turnpike, Dates: MAY 20 , JUN 3 & 17 •,JUL 1 & 15 , SEP 2 & 16 , OCT 7 & 21.
(No cruises in August, No rain dates) 4-8PM, All classic, muscle, and specialty cars welcome. Classic imports too! Raffles, 50/50,
DJ, trophies, great food. Check our website for details and any weather cancellations at www.charteroakbirds.com
---
May - September 2017- Saturday, Bethel, CT.
Every Saturday Night, Cruise Night at the Sycamore Drive In, 6-9 PM.
Custom Street Rods, Classics And Special Interest Autos Welcome.
Music & Great Food. Car Hop Service. Sycamore Drive In, 282 Greenwood Ave. Bethel, CT, 203-748-2716 for more info.
---
Now - September 2017 - Saturday, Wethersfield, CT.
Cruise Night at O'Reilly Auto Parts
---